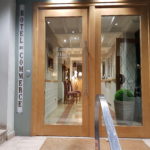 Located in the heart of the Lozère, find a boutique. With the 80 years of our hotel preserved tradition and elegance for your pleasure.
Our hotel is ideally located in Mende, near to the historic city center, in front of the tourist office and close to the "Notre Dame" cathedral, also near to the municipal theater and the space "Georges Frêche" welcoming congresses, shows and various shows.
We have 9 different hotel rooms, renovated and tastefully decorated in a contemporary and colorful style.
The Lozère offers rich and varied landscapes such as the Gorges du Tarn , the tableland of the Aubrac passing by the Margeride , the strong> Cévennes or the Grands Causses. Many activities are available to discover or re-discover Mende and this surroundings.